We strive to provide a pet-friendly community for everyone.
Check out our pet policy to learn more!
Our communities are home to more than just humans! We love our furry friends and encourage our residents to enjoy approved pets in their homes. Please read and learn more about Buckingham's policies surrounding pets to ensure we provide a safe environment for everyone.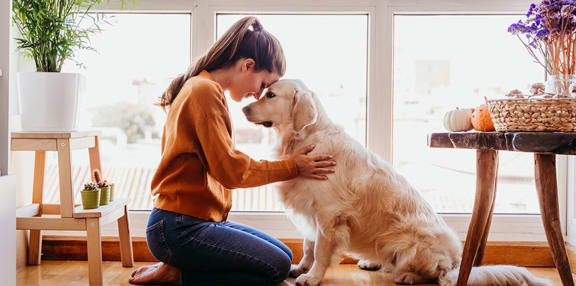 SCREENING PROCEDURE
Our management firm utilizes PetScreening.com to screen pets requesting to reside in our communities. PetScreening does all the work for you in managing animal records, including validating reasonable accommodation requests for assistance animals. By using this service, we can confirm all residents understand the pet policies and our team can easily manage pet records for the property.
All current and future residents are required to create a PetScreening.com profile, even if there is not going to be a pet in the apartment. Those who do have a pet residing with them will receive a Fido Score after completing their PetScreening.com profile. The Fido Score determines if your pet is accepted and the applicable fees that apply. The fee schedule and list of restricted dog breeds are below.
FEE SCHEDULE
Please complete all fields within the PetScreening.com profile for an accurate Fido Score. If additional details are added later that result in a higher Fido Score, a refund will not be issued for the difference. Applicants and residents are responsible for the PetScreening.com profile fee.
PET FEE (per each pet)
Depending on your Fido Score, the following non-refundable deposit will be required:

Fido Score 1 = $500
Fido Score 2 = $475
Fido Score 3 = $450
Fido Score 4 = $425
Fido Score 5 = $400
PET RENT (per each pet)
Pet rent is a monthly fee that will be added to the lease agreement.

Fido Score 1 = $55
Fido Score 2 = $50
Fido Score 3 = $45
Fido Score 4 = $40
Fido Score 5 = $35
BREED RESTRICTIONS
American Pit Bull Terrier
American Staffordshire Terrier
American Bully
American Bull Terrier
Wolf
Wolf Hybrid or Mix
No weight or age restrictions across the board
Limit two pets per apartment home